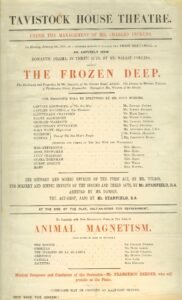 TWO MAGNIFICENT THEATRICAL BROADSIDES  FOR WILKIE COLLINS : THE FROZEN DEEP –
THAT HAD CHARLES DICKENS PRODUCING THE PLAY AND APPEARING IN A LEAD ROLE
[PLAYBILL — DICKENS, Charles, Actor]. Playbill for the Dress Rehearsal at Tavistock House Theatre of Wilkie Collins's The Frozen Deep and Mrs. Inchbald's Animal Magnetism: Tavistock House Theatre. Under the Management of Mr. Charles Dickens. London, 5 January 1857. Broadside on paper.  [14 1/4 x 9 ½ inches].  Printed in red and black. (Left and lower margins slightly backed/renewed.)
In The Frozen Deep, billed as "An Entirely New Romantic Drama, in Three Acts," Dickens is listed as playing the role of Richard Wilbur; Mark Lemon played Lieut. Crayford, and Wilkie Collins played Frank Aldersley. The scenery was done by Mr. Ireland and the costumes by Messrs. Nathan. Dickens aplayed the role of The Doctor in Animal Magnetism. Yale/Gimbel H866.
[With:]  Another Playbill for the first regular performances of The Frozen Deep and Animal Magnetism. London, 6 January 1857.  Broadside [15 x 9 1/2 mm. (A few short tears, lightly toned.) Yale/Gimbel H867.
Almost fifteen years ago (2009) in the William Self sale that was held at Christies auction house in NYC, a pair of these broadsides sold for $6,875.  A superb addition to any collection of theatre, Dickens, Collins or literature.                                                                                               
 $8500.00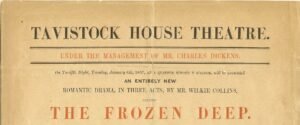 THE HEADING OF THE OPENING NIGHT BROADSIDE.