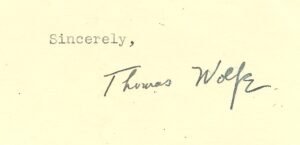 THOMAS WOLFE POSTPONES HIS VISIT TO VASSAR
BECAUSE OF HIS NEW BOOK CONTRACT WITH HARPER BROTHERS NOW OBLIGATES HIM:  "TO STICK TO THE JOB UNTIL I GET ANOTHER BIG PIECE OF WORK COMPLETED".
WOLFE, THOMAS.  (1900-1938).  American novelist; wrote Look Homeward, Angel (1929), Of Time and the River (1935) and You Can't Go Home Again (posthumously published, 1940).  Very rare Typed Letter Signed, "Thomas Wolfe".  One page, quarto.  New York, January 21, 1938.  Very fine condition.  Accompanied by original envelope addressed to "Professor Richard A.E. Brooks, Department of English, Vassar College, Poughkeepsie, New York", with a purple, three-cent stamp and "New York" postal cancellation.  Wolfe writes:
"Thanks very much for your letter of January 18th and your invitation to speak to your students at sometime before March 24th.  I wish I could promise you that I could do this.  It would be good to meet you all and I know I should have a pleasant time.  But, as you know, I've just signed a contract with Harper and Brothers for a new book, and I feel that I have now obligated myself to stick to the job until I get another big piece of work completed.  For that reason, I have tried to keep myself free of all engagements.  But I do want to thank you for your kindness and courtesy in invitating [sic] me to come to Vassar, and I hope that even if I cannot do it at this time, the postponement will not be long.  Please give Carroll Griffin my kindest regards.  It has been a long time since I have seen him, and that too is another reason why a visit to Vassar would be pleasant.  With all good wishes to you all, sincerely, Thomas Wolfe". 
In 1936, Thomas Wolfe began to quarrel with his publisher, Charles Scribner's Sons, because he felt they had too much control over his work.  In December 1937, he left Scribner's and signed a contract with Edward C. Aswell of Harper and Brothers. In the spring of 1938, Wolfe presented Aswell with a manuscript of The Web and the Rock, at that point little more than a fragmented autobiographical novel about the burgeoning social conscience of a dislocated southern author. Soon thereafter, Wolfe departed New York on a Western tour of the country—a tour that was to be short-lived. After a speaking engagement at Perdue University, Wolfe traveled to Vancouver, British Columbia, where he came down with pneumonia. This pulmonary illness caused a tubercular lesion to erupt, in turn causing a cerebral infection. Wolfe finally succumbed on the 15th of September, three short days after emergency surgery at Johns Hopkins University Hospital revealed the disease had overrun the entire right side of his brain. After Wolfe's death, Aswell pulled material from a large pile of the author's unfinished manuscripts and published The Web and the Rock, You Can't Go Home Again and The Hills Beyond.  Wolfe's tragic, early death at the age of 37 makes his letters quite rare.                                                                                                                        
$3950.00