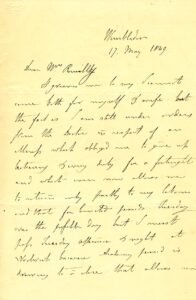 "I AM STILL UNDER ORDERS FROM THE DOCTOR IN RESPECT OF AN ILLNESS WHICH OBLIGED ME TO GIVE UP LECTURING & EVERY DUTY FOR A FORTNIGHT"
FARADAY, MICHAEL (1791-1867) English chemist; physicist; noted for his discoveries relating to electricity' magnetism' and the liquefaction of gases.  Uncommon Autograph Letter Signed "M. Faraday", 1½ pages, octavo. Wimbledon, May 17, 1849. To Rumsilby [?], Faraday writes:
"It grieves me to say I cannot come both for myself & wife but the fact is I am still under orders from the Doctor in respect of an illness which obliged me to give up lecturing & every duty for a fortnight and which even now allows me to return only partly to my labours and that for limited periods.  Tuesday was the possible day but I must pass Tuesday afternoon & night at Woolwich is drawing to a close that allows me no choice. I hope to be in town tomorrow and shall call at whatever hour – for the chance of finding you. My best remembrances to my dear friends. Mrs. Marat and De La Rue and to W. C. Ronalby, Believe me / Your Very faithful Servant, M. Faraday."
An excellent example for the collector of science related material.       
$1250.00