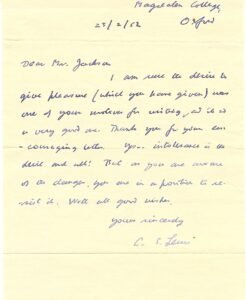 "YES – INTOLERANCE IS THE DEVIL…"
LEWIS, C.S.  [in full: CLIVE STAPLES LEWIS].  1898-1963.   Irish-born scholar, novelist, and author of about 40 books, many of them on Christian apologetics;  best known for his: The Chronicles of Narnia, a series of seven children's books that have become classics of fantasy literature;  friend and associate of J.R.R. Tolkien.    Scarce, and apparently unpublished Autograph Letter Signed, "C.S. Lewis".  One page, octavo.  "Magdalen College, Oxford"  February 23, 1952.  To: "Mr. W.W. Jackson" of Portsmouth, New Hampshire.  With original stamped and metered mailing envelope addressed in Lewis' handwriting.  Very fine condition.  The theologian author writes:
"Dear Mr. Jackson,  I am sure the desire to give pleasure (which you have given) was one of your motives for writing, and it is a very good one.  Thank you for your encouraging letter.  Yes – intolerance is the devil and all!  But as you are aware of the danger, you are in a position to resist it.  With all good wishes, yours sincerely,  C.S. Lewis".
Sound advice, both then and now, from the author of:  The Lion, the Witch and the Wardrobe.  We wonder if the reference to the 'devil' in this letter may be a reference to his 'The Screwtape Letters", published in 1942.  [?]  His letters are extremely difficult to obtain, and this letter would make a fine addition to any collection of literature.
$6800.00